Every month, BirdBrain Education goes straight to the head of the class. We chat with teachers in public and private schools to discuss their educational philosophies and how they integrate BirdBrain in their classroom. Meet Corbin Rice, a 6th Grade Science Teacher at Northeast Middle School, who was chosen as our first ever ToM.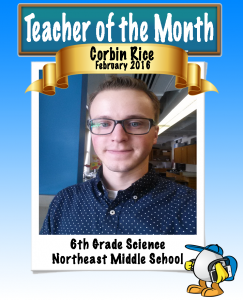 Congratulations! How's it feel to be Teacher of the Month?
At first, I thought it was spam… and then I read through the email again and thought, 'Did they really nominate me for this?!' Once I realized this was for real, I felt honored. I've never won anything before so it was a very pleasant surprise.
And how begins the epic tale that led you to become a teacher?  
I've always wanted to be a teacher. When I was in 9th grade, I got to be a teacher's aide at a middle school and the experience of supporting that teacher and seeing what happens behind-the-scenes as a student was eye-opening. It made me realize what my teachers have done for me all my life, and what it takes to be one. I knew I wanted to be a teacher since then.
What do you do with your free time (when you aren't grading of course?)
Ice fishing, snow shoeing, hot yoga, cooking. Oh, and if I'm allowed to say this: I like to brew beer. My mind runs wild like a chemist with different recipes.
What led you to start using using the BirdBrain platform – and what's your favorite part of the program? How about for your students?
I got introduced to it from the Tech Ed Summit at Google. The platform's ease of use and intuitive design drew me in, but the differentiation piece is really the seller. I can look up a million articles on everything on my own, but the website already does it all for me. The format of how BirdBrain spins the ideas – it's original, still hits the science concepts, and is direct enough so it's easy for students to digest
I also appreciated the humor behind the articles and the goofy design. The kids catch on to the humor and they like it. They come into class going, "Did you assign a new BirdBrain today?!" Students have no problem adding themselves to a class and managing their assignments.  The reaction of my students to BirdBrain encouraged me to continue using it. I really try to listen to their feedback.  
You're one of our most active BirdBrain users and it's been less than a year since you signed up – tell us more about how you use BirdBrain in your classroom!

I teach at an inner city school, so there is a huge amount of diversity and that brings a wide range of ability levels. Like, in one classroom, I have students reading at a 2nd grade level all the way to a 10th grade level. The fact that BirdBrain levels reading automatically is a godsend and it's amazing.
In a typical science class, I first give a hands-on lab, direct instruction, or some kind of demonstration for my students. I show them experience before I assess them on anything. I usually assign BirdBrain articles as a follow-up. Some students go straight to the assessment, and they'll do well. If they do well on the assessment piece, then I trust they learned it in class and it's a reiteration piece for them.
What I appreciate is that [BirdBrain's] assessment questions are phrased in a way that truly measures their understanding. I've come across so many assessments over the years, and unfortunately, some of them are horribly written, but your questions were actually worth my time and worthwhile for the students.
Do you have any innovative instructional practices you'd like to share with other teachers?
My students are in a good flow right now. They know my expectations for their BirdBrain assignments and how they can improve their scores and re-try. I actually created a separate higher level reading class on BirdBrain for my students who are looking for something more challenging. They are vigilant learners and don't like getting even one question wrong, and they'll keep working at it.
For my students who are hardly speaking English at all, the website is really intuitive for them, and I use it to help boost their self-confidence. The individualized leveling on BirdBrain makes them feel like they can accomplish the task. It's not daunting. They're trying new vocabulary words and articles. It's fun, relaxing, and helps my students want to complete the assignment. I was never a strong reader growing up and I always tell them that. [It's important that] when their reading level goes up, we praise those accomplishments.
Every month, we honor a BirdBrain teacher who has gone above the beyond in his or her dedication to their students. You can send your nominations for Teacher of the Month to esther@birdbrainscience.com.