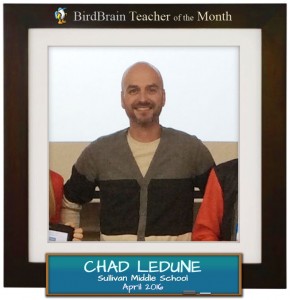 For many of us, the desire to learn doesn't stop after school. Chad LeDune is a rockstar science educator who uses his curiosity to make learning more effective and enjoyable not only for his students but classrooms throughout Indiana. For this reason and more, he is our BirdBrain Teacher of the Month this April!
Let's start with teaching. What made you want to become a teacher?
Well, teaching was not on my radar as a profession when I was younger.  Though I was surrounded by teacher friends and family members, I really never considered it.  I began college majoring in biology and minoring in chemistry. Even though I enjoyed my classes and had success, it just didn't seem to be the right fit for me.  So, like many of my friends and family, I decided to see if teaching was my calling.  And now, even with all of the many challenges that face today's schools and educators, I could not imagine doing anything else.
Outside of teaching, what do you like to do for fun?
I love being outdoors with my family.  Playing with my kids, fishing, golfing, grilling out, kayaking, hiking through the woods, spending time on the lake, or even working outside are all activities that I enjoy.  Being outside is a refreshing break from the classroom that I feel recharges me for school.
How about in school? Do you have a favorite BirdBrain moment in your classroom?
Even my most gifted students have voiced their opinions on how challenging BirdBrain is.  Which, as a teacher, is something that I appreciate about the product.  Many of my students are reading at the 11-12th grade level.  I think my favorite moments are figuring out the answers to these challenging questions with the students and showing them that the answers are in the details of the articles.  It's great for these students to be challenged with ability appropriate material and questions.
That's awesome. Is there a particular student who BirdBrain has helped move the needle for?  
I don't think that there is really a story about an individual student here.  I like to look at the success that BirdBrain has brought to my entire group of students.  I love seeing students advance in their reading and comprehension levels and they love to see it as well.  I reward them for this with our PBIS (positive behavior rewards) monthly.  Many of my students will check with me to see if they have increased a reading level.  This shows me that they are motivated to do their best on these assignments.
 Do you have any innovative instructional practices you'd like to share with other teachers?
We are a 1:1 iPad corporation, which has given me the opportunity to have a class that does not require a textbook.  We use apps and sites for pretty much every aspect of our class.  I believe this gives me the chance to present information in many different methods.  This differentiation also keeps students much more engaged in their learning.  I feel very fortunate to teach science.  Kids love science!  My students and I both enjoy our time in the lab working on design process projects and the scientific methods labs, which we present using our iPads.
Where do you get ideas for these design projects and labs?
A lot of the time, I make them up on my own. With science, it's one of those disciplines where you get the opportunity to learn something from a book then apply it in a lab. I try to incorporate as much lab and hands-on projects for my students as possible.
Are there any projects you have coming up on the pipeline?
You know, even after 13 years of teaching, I have yet to turn around the next year and use the exact same thing I used the year before. I am always trying to perfect my ideas. For example, I have a wall of fame in my classroom where I'll put the name of the building project, and underneath, I put who set the record. Students can win the competition in class, but have extra motivation to continue if they're working against a record holder on the wall. Something I'm working on for next year is making Youtube videos for each project.
 What is one thing about you that most people don't know?
I was given the opportunity last year to write curriculum for my state [of Indiana]. From that experience and the contacts I made through that, I am now part of great professional development team called EdTechHeroes.  All of us on this team love staying up to date on the latest educational technology and strategies being used in classrooms and presenting these at conferences around the state. It's an experience that has enabled me to grow personally and professionally.
 Every month, we honor a BirdBrain teacher who has gone above the beyond in his or her dedication to their students. You can send your nominations for Teacher of the Month to esther@birdbrainscience.com.